Better access.  Better outcomes. 
Dr. McMurry sends all her supplement prescriptions through Fullscript. All prescriptions are 20% off MRSP to enable patients to purchase the highest quality supplements at an affordable price.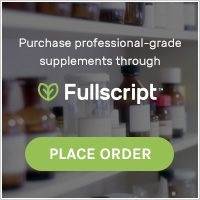 If you would like a personalized prescription please schedule an appointment with Dr. Suzanne McMurry by clicking the button below.
Schedule Your Virtual Consult with Dr. Suzanne McMurry
Get better, faster, and with less side effects. All with a natural approach.
Schedule Today
Dr. McMurry gives genuine compassionate care. She truly treats the whole person, and takes time to understand patient needs and concerns. I would feel confident and comfortable seeing her again for any medical issues.
"Symptoms of chemo brain can fade after chemotherapy ends, but each patient is different. Some may take a year or more after treatment to feel normal again; others may never regain full mental ability." - source: mdanderson.org You may have heard it called chemo...
Read More