Communication and collaboration with all physicians involved in your care, along with comprehensive and coordinated naturopathic care to minimize adverse effects and maximize efficacy of standard cancer therapies, including:
before and after surgery

before, during and after chemotherapy

during and after radiation
Long-term survivorship care and wellness support
Referral to local resources for emotional and spiritual support as well as continued naturopathic medical care to reduce the duration of your symptoms following treatment.
Nutritional supplementation
Prescription-grade supplements up to 30% off.
HSA/FSA Eligible Purchase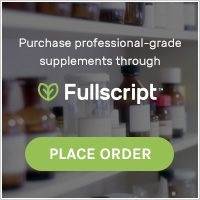 Physician grade supplements are recommended based on your individualized health concerns, symptoms during treatment and in the prevention of the side effects from chemotherapy and radiation. Dr. McMurry provides supplement prescriptions through an online dispensary, enabling patients to have convenient at home delivery based on their specific treatment needs.
Dr. McMurry understands how affordable, effective care can make a world of difference. All supplements are dispensed 20% off MRSP, and if prescribed by Dr. McMurry following an appointment, will not be charged sales tax (saving an additional potential of 10.2%).
Naturopathic medicine is founded on the principle of prevention. All patients are counseled on preventative health screenings based on their age, gender, and risk factors, in addition patients are counseled on nutrition optimization, dietary modifications, physical activity and exercise.
Continued preventative support can be accessed through Dr. McMurry's blog.
If you still have questions feel free to reach out to Dr. McMurry by filling out the contact form here.